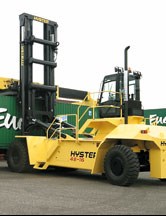 EXAMPLE COPY
In 1982, when we began supplying HYSTER materials handling equipment, our company operated from one office.
We were small but we had a vision and a plan, and with that in hand, our business grew. Our customers, who were our top priority from the very beginning, found that our equipment made their business more profitable. By focusing on the success of our customers, we found our own success.
If you have something that needs to be moved, our lift trucks can handle your job. If your application is demanding and unique, we have the trucks, the skills and experience to deliver what you need. No matter how big the challenge is, Irish Lift trucks can deliver the materials handling solution your business requires.
We offer:
The most complete Forklift offering on the Irish market today renowned for reliability, performance and helping to reduce operating costs
Diesel, Gas & Electric Counterbalance forklift trucks manufactured in Ireland
Warehouse equipment including Powered Pallet Trucks, Order Pickers, Reach Trucks & VNA equipment
Large Capacity Forklift Trucks & Container Handling Equipment
An extensive range of the highest quality Used trucks , fully inspected, serviced and certified
Nationwide Service back up and up to 100% Parts availability
Short Term and Long term Rental packages for new and used trucks
Professional Advice on Fleet Management and Warehouse Design
A Comprehensive range of Training courses for all materials handling equipment